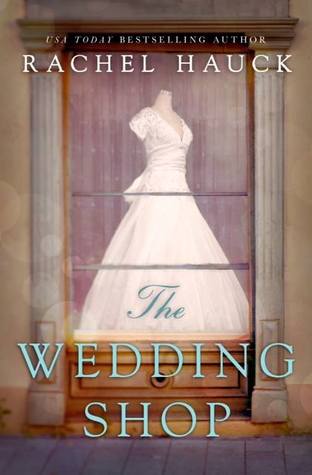 Once again, I was swept away into a Rachel Hauck novel and happily at that! She simply has a way with words. This wasn't a nail-biting, stay-up-way-too-late type of story for me, but that didn't matter. It was the gentleness and the care in her storyline that kept me picking the book back up again and again. Which probably sounds like it wasn't a great read, but it was! Oh, it definitely was.
The reason I enjoyed it so much? The characters, of course. Because I loved Haley. She's quite a force of nature! Now Cora, on the other hand, I wanted to shake her a few times. But Haley? I was right there with her every single step and wanted so badly for her dreams for the shop to come true. And as she dreamed huge, refusing to let pessimism crash into it, I kept hoping right along with her. It did help that I was rather fond of Cole, as well. (Who wouldn't be? ;) As these two worked together, I loved all their little moments. Their relationship is pretty fragile in the beginning, thanks to their past, but oh the sweetness that slowly develops! Definitely a favorite aspect of the novel for me.
Dual storylines can sometimes be confusing, if the writer doesn't differentiate between the characters somehow. I confess that I wasn't expecting all the POVs that we get, but Ms. Hauck handled them all well. Cora's bits were an interesting background for Haley's, and while I was more riveted with Haley and Cole, I did like watching Cora's growth as she figured out what she really wanted out of her life.
The bits of hope and grace that Ms. Hauck tucks into her story were lovely as well! By the time I closed the final page, I was smiling from all the cute and happy moments. And was glad that I had the privilege of reading this excellent story!
**I received a complimentary copy via Netgalley in exchange for my honest review.
"I had my adventure. After the air force I was supposed to come home and open the old wedding shop with Tammy." Haley smiled at the memory of playing in the shop with her best friend. "Man, I don't think I've really thought about that since high school. But if she were alive now, she'd be begging, 'Let's open the shop, Hal. Now's the time.'"
"The old wedding shop? What? I never heard this before. Why would you want to open that old place? The city owns the property and last I heard, was about to tear it down, thank goodness." Mom opened the bedroom door and hollered down. "Dave, is it almost halftime? We can do our goals."
Haley was on her feet. "Tear down the shop? Why?" Her dream with Tammy woke up, stretched, and rattled around in her soul.