Well, hello again, lovelies! I am back with some mini reviews for your reading pleasure. I figured out that, while I
thought
I had caught up all my reviews from last year, I missed one. Oops! So I'm adding it here, along with a few others that I've read more recently. I am so, so, SO happy my reading slump is mostly over! It's just not fun when I struggle to find books to hold my attention. These following stories aren't amazing, but I did enjoy them overall. :)
Return to Sender by Janice Thompson
This is a cute and sweet little novella written by one of my favorite authors. Ms. Thompson's stories almost always have just the right amount of humor to tickle my funny bone, along with an adorable romance. While this one had both of those things, it seemed to not flow as smoothly as I was expecting. The banter between the main couple had its cute moments, but there was something holding me back from fully investing in their relationship and I'm not sure why. Lots of novellas have things moving at a pretty quick pace, simply because they have to given the shortness of the page count, so that wasn't the issue for me. Regardless though, I did enjoy the story overall! Holly and Liam have nice chemistry and I loved Gertie. She was pretty fun! I closed the final page with a smile on my face, what more can a reader ask for? :)
The Girl Who Heard Demons by Janette Rallison
I've been a fan of Ms. Rallison's for several years and I was happy to see that she had a newish one out. (I have to admit it
has
been out for a while, but I just hadn't noticed it.) Her stories always have a great mix of fluffy, adorable romance and enough tension to keep the pages turning. This one is excellent in that regard! Adelle can hear demons, she just can't see them, and having that "gift" has disrupted her life in many, many ways. Enter Levi, a fellow student whom she attempts to save and who refuses to stay out of her life ever after (and thus has to give some of her secrets away). Their relationship has lots of pretty cute moments and their banter is fun. The fact that demons are real is a concept Adelle never questions, but Levi struggles with it. His unbelief, coupled with a mystery as to some other happenings around school, make for a little bit of drama for Adelle. But she is up to the challenge of learning how to handle her "gift" as well as fall in love. I thoroughly enjoyed watching her growth and seeing her finally choose to live life instead of letting it simply go by out of fear.
Wrapped in Red by Meghan M. Gorecki
I'd heard good things about Ms. Gorecki's first book, but hadn't fit it into my reading schedule yet. Then I heard she was writing a Christmas novella and that seemed a perfect way to get to know her writing. I really enjoyed it! Merry and Sam are rather easy to root for, even when Merry's being a little ridiculous. Let's just say that she has a few quirks that made me simultaneously laugh and yet wish I could knock some sense into her so she could realize how silly she was being! But that made her feel like a real person, as don't we all have our frustrating sides? :) As they slowly get to know one another, I loved seeing them open up to each other and fall in love. I do have to say that the beginning of the story took a bit to start flowing smoothly. The first chapter or two felt a little choppy to me, but once I was several chapters in things settled down and I stopped noticing the little bumps while reading. All that to say that this wasn't a perfect story, but I liked it anyway! I definitely look forward to reading her future books because this only whet my appetite for watching her skills grow! :)
Thirty-Two Going on Spinster by Becky Monson
This was just a really fun story! I wasn't sure what to expect upon beginning chapter one, but I was quickly swept up in Julia's mundane existence of a life. She's stuck, and while she kind of knows that, at the same time it's really hard to get herself going again. Her "spinster-ish" life isn't that terrible, but she definitely needs a wake up call. When hers arrives, she doesn't appreciate it at first, but watching as she grows, changes, and realizes that there is so much more to life than simply going through the motions and being miserable, I loved it! Her love life gets a bit of a jumpstart as well. While I could see some of the plot developments coming, it didn't take away my happiness at seeing Julia finally take charge of her life and fall in love (both in romance and with her job) in the process. She's a fairly relatable character, even when she's being a little frustrating. Overall, just a cute story that made me laugh several times! And I'm looking forward to seeing where the next book takes her...
The Nine Lives of Christmas by Sheila Roberts
I love the Hallmark Christmas movie that is based on this book, so I was hoping I'd enjoy this one. But I didn't. Oh, it's not an awful story, so to speak, it's just vastly different than the movie (which is to be expected, I knew that) and had so little substance to it. I kept hoping I'd finally like Zachary, but he was simply never very likable. Not even when he finally gets a clue at the end and makes the right choice! When I don't like the main character, that means I usually struggle to like the story they're in. I will say that I did enjoy Ambrose the cat! His parts were funny and sweet, and I liked getting things from his perspective. And Merilee is very sweet as well, so that helped. So basically, this wasn't terrible, it was simply very forgettable once I closed the final page. If you like romances where the main guy is very shallow, and has to stumble around being a bit stupid for much of the story, then you might like this one. It just wasn't for me, unfortunately.
The Mistletoe Promise by Richard Paul Evans
I really loved this little story! After watching the Hallmark Christmas movie based on this book and enjoying it, I was so pleased to start this book and find so much more meat to the story. It starts off seeming like it has a rather shallow foundation, but it isn't long before Elise begins to realize what a wonderful man Nicholas is and I did too! He is a sweet man who lives up to all the promises he makes to Elise. But it isn't just the cuteness of watching these two fall for each other, their backstories are complicated and entwined in ways I couldn't have imagined. I loved watching it all play out over the course of the book and I think I fell a little bit in love with Nicholas myself. ;) There are a few bumps in the road, like Dan, who irritated me greatly, but I just skimmed through his parts and quickly returned to Elise and Nicholas. Definitely a wonderful read worth your time, friends!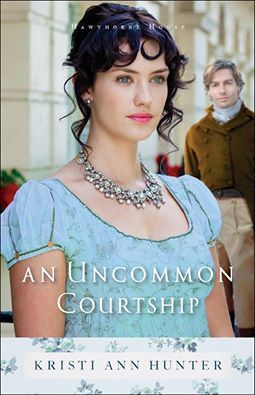 An Uncommon Courtship by Kristi Ann Hunter
After seeing fellow reader friends exclaiming how they loved this one, I knew I needed to check it out. Plus I loved book one of this series and as much as I love the Hawthorne family in particular, when I saw this one had a contract marriage as its premise, I was hooked. :) And I ended up really liking it! Watching Adelaide and Trent circle around each other so very tentatively, both clearly uncertain of the other, is pretty cute. Although I will say that I expected a little more confidence from Trent. As the man in the relationship during this time period in history, I expected him to at least take charge of a few decisions. Instead, he decides to completely ignore the fact that he's married. In fact, the degree to which he was naive over things really surprised me! It felt a little unrealistic, I think he should've known a few more things than he did, and he frustrated me with how long it took him to finally begin acting like he's married. Now Adelaide's naiveness is perfectly understandable and I enjoyed watching her begin to learn confidence in herself and what she is capable of. And of course, the Hawthorne's! Once the rest of the family finally shows up (much too late in the story for my liking, I admit), then things truly begin to happen. Lots of forward movement in the latter half of the story brings everything to its delightful conclusion and I closed the book with a happy sigh. So while the first half was a little disappointing, the last half made up for it. I'm always game to read about a contract marriage, there's just something about that trope that pulls me in every time! :)