Hello, my lovelies! Guess what I finally clued in to? That I've posted very few reviews around these parts for the last several months! Of course, part of that is simply because I haven't done much reading. Which is perfectly terrible! But I've just had some minor health issues over the summer and early fall, notably especially the last few weeks. So take that and add to it a major reading funk I've been in and there you have it. I surely wish these things didn't happen, but what can you do? However, I
did
read several books in early summer I never reviewed, so here I am finally!
I recently reread
First & Then
and it was just as cute the second time around. So maybe instead of trying to read all new books, I should try rereading a few old favorites! We shall see. Hope all is well on your end of the internet! :)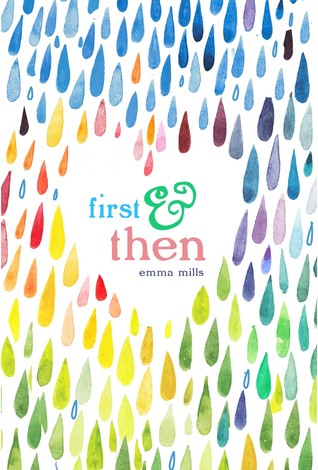 First & Then by Emma Mills
This is not a perfect story, but it was overall cute and sweet enough that I could overlook the imperfect parts. Mainly due to Foster! Because I absolutely fell in love with his character. :) He's a quiet and smaller part of Devon's story, but there was just something about him that I loved. His way of looking at the world is much simpler than most people's, but that only makes him more endearing. And the way that Devon revolves around him is sweet.
She, herself, is a huge mixture of emotions and teenage angst and trying to find herself. At times, she truly frustrated me, but then she'd do something incredibly sweet for Foster and I'd totally forgive her, much like Foster does. She has such a loving heart, for all her occasional surliness and sarcasm tries to hide it. Her romance with Ezra is quiet and slow-building, which is perfect! It basically sneaks up her until her heart is committed without her realizing. But the truly shining moments in this story is every single interaction between Devon and Foster. Foster is well worth getting to know, friends. I highly recommend "meeting" him. :)
Switching Gears by Chantele Sedgwick
I picked this one up based on a blogging friend's high recommendation and was so happy I did! Even though I hadn't read the first book,
Love, Lucas
, this one is more of a companion novel than an outright sequel, so it stands very well all on its own. Emmy is the reason I loved this story. Still coping with the grief of losing the boy she loved, I connected with her struggles to handle those complicated emotions. Add to that the fact that her mother has a huge health crisis and I completely understood the way that Emmy was barely hanging on most days. That's a lot for anyone to handle! Having experienced very similar emotions, I was with her every step, wanting so badly to hug her!
It's a slow journey, but with good friends around who refuse to give up on her, she ends her story in a much better place. Speaking of, I loved her relationship with Cole! It's not an easy one, mainly because she has no idea how to manage all the emotions he causes and therefore doesn't always treat him the nicest. But he stays the course and watching as she slowly warms up to him is fun. :) Overall, it's not just a simple story. Emmy's journey is quite difficult at times, but so worth discovering!
Then There Was You by Kara Isaac
Kara Isaac never fails to deliver a swoony romance and this one is just as excellent as her first two! This is so much more than just an entertaining romance though, both Paige and Josh have a journey to go on before they're completely ready to give in to their attraction. They each have a lot of learning to do about who they are and what they truly want in life. Meeting each other and being forced to confront these issues isn't easy for them, but what fun it makes for the reader!
I laughed so many times, mentally cringed when either made a mistake (especially the one at the end! Oh my stars...) due to secondhand embarrassment, and just overall absolutely LOVED this story. I was easily swept up into the magic of life in Australia, which just made me want to actually visit the country some day even more. :) This story has definitely solidified Ms. Isaac as a favorite author and I shall now go and reread all my favorite parts again. And again and again! It's worth the reread, trust me. :)
The Night Circus by Erin Morgenstern
Wow. I've heard lots of great things about this book and they are certainly deserving! The slower plot and evocative descriptions were right up my alley. While I can see where some may not enjoy those very bits overmuch, I was thoroughly swept up in this world and anxiously waiting to find out what would happen. Plus Jim Dale was an excellent narrator! (I listened to the audiobook.)
I loved each of the details described so lovingly and found myself completely immersed in this world. And what a world it is! It's a feast for the imagination! The reader can see all the sights, hear all the noise of the circus, and smell the wondrous foods to be found there. I've never envisioned everything so incredibly clear before. Ms. Morgenstern certainly has a gift for descriptive writing!
I will say that the myriad of POVs was slightly confusing at first. I couldn't figure out how they were all going to intersect, though I had no doubt that they would eventually. Also the jumps around in time didn't always make a lot of sense, but they did up my anticipation for when everything came together. I had no idea where on earth Ms. Morgenstern was going to take me, but I did love the journey! I think that's the beauty to be found in this story. It's not the ending that's so enticing (although it is at the same time?), but the journey to get to that ending. So enjoy the adventure, friends! It's quite a wonderful ride. :)
Just Look Up by Courtney Walsh
So I sat down with this book one Saturday morning planning only on skimming through the beginning a little and...well....a few hours later I looked up having finished it! Totally forgot to eat lunch and everything! I related to so much of Lane's insecurities, fears, and doubts. Although I don't react to them by becoming quite as uptight as she or with as many walls built, yet even so I empathized with her constant mix of emotions. It was like Ms. Walsh had gotten inside my head and written my very thoughts. Thus I was anxious to see how Lane would overcome them and find herself anew. It was a beautiful, and hard, journey for her! When your instinct is to protect yourself, it's difficult to open up and let others in.
That's where Ryan Brooks comes in. I loved how he refused to give up on Lane! He is certainly not without flaws, but the way he could reach inside her walls and connect to her heart, even while she tried to deny it, was wonderful to watch. He is so good for her and watching the two of them slowly come together is swoony and delightful! But it's not just Lane learning from him, he has much to learn from her as well. They help each other grow in so many ways.
Reading this story was like finding dear old friends who filled me with warm fuzzies! Just trying to describe all the happy it gave me makes me really want to immediately go and reread it again. :)