As some of you may or may not know, I had the privilege of being a part of the
INSPY Awards
earlier this year. It was such a fun opportunity and I got the chance to read a couple authors that I hadn't yet! Ultimately my fellow judges and I chose
Meant To Be Mine
by Becky Wade for our category, but the other four books were very wonderful. I am long past due writing these reviews since those awards were given back in June. June! I know! Still, better late than never, right? :) So! On with the reviews!
A Broken Kind of Beautiful
by Katie Ganshert
It's not every single book title that aptly fits the story within, but this one certainly does! It is a heartbreaking, yet ultimately beautiful kind of story. Ivy is one of those characters that has to grow on you. At least she did for me. But it doesn't take that many chapters for you to realize how broken she truly is and once she, herself, realizes that? Once she begins to see the beauty that is found even in the things that the world says is ugly? That's when I knew I was beginning to like her. As she struggled to see beyond her hurt and pain, as those around her strove for the same, they grew closer together and soon became a part of me as well. I don't think you could read this story without feeling each character's emotions and being right there with each of them as they slowly opened up to one another and most especially to God. Sort of like how sunflowers open up to the sun! A beautiful story indeed. And it convinced me that I need to read more of Ms. Ganshert's books! :)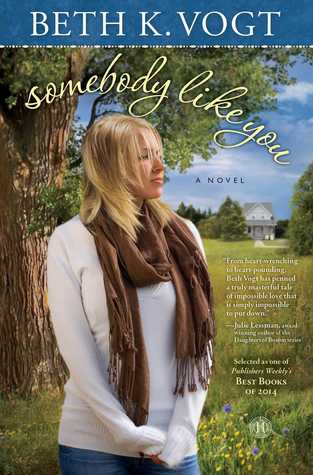 Somebody Like You
by Beth K. Vogt
The idea that this story is based around could so easily have become quite a different story than it did. But Ms. Vogt took such care with her characters and her storyline that I never doubted the gentle way she led them around to each other. Instead of huge dramatics and constant angst, it felt real. Both Haley and Stephen grappled with understanding themselves, how their pasts had shaped them, and where they wanted to go in the future. And as I journeyed along with them, I could appreciate the confusion of emotions they both felt, yet their connection was undeniable. It made me grin and sigh happily once they were finally able to be on the same page! Such a sweet story. (On an extremely shallow note though, I just have to mention that the more I looked at the cover, the more I wanted to push her hair out of her face! Or at least make her turn around so the wind could blow it away from her eyes. :)
A Table By the Window
by Hillary Manton Lodge
I confess that while I read this one, I got very, very hungry! Ms. Lodge's descriptions of the food made them sound delicious. :D It's a quiet story that begins slowly and works its way into your heart (and stomach! ;) until you're salivating to know what's going to happen next. And can I just say that I loved Jules' family? The siblings interactions were fun and felt very real. And the love and care they have for one another is wonderful. Even as they sometimes frustrated each other. And the romance? Oh my, there's just something awfully romantic about a man who writes letters! The gentle way Neil and Jules interact with each other is so sweet. With yummy food, an interesting mystery, and cute romance, this story is mix of things that somehow flow together into a wonderful story! My only complaint is that it ends with a teensy bit of a cliffhanger and I have to wait for the next book to find out where Jules goes from here. At least it's already published though, right? :)
Beowulf: Explosives Detection Dog
by Ronie Kendig
Every single thing I've ever read about Ms. Kendig's books is true! She is an amazing writer, my friends. With great characters (especially Beowulf! :) and edge-of-your-seat climaxes, this is one book that had to be read in one sitting. No other possibility, because there was no way I was going to be able to sleep without finding out what was going to happen! And if you like dogs, then I can guarantee Beowulf will make you fall in love with him with no trouble at all. He's awesome! And made me laugh so many times, especially during a few moments of tension. Timbrel caused me some frustration at times, I will admit, but once she got over her stubbornness I could forgive her. She and Tony were awfully cute together! :) If you haven't read one of Ms. Kendig's books yet, then may I suggest that you remedy that? This was a wonderful story and I plan to read more of her books in the future! So should you.