Here I am again! More reviews for your reading pleasure. As I stated before, this is the Christian Fiction (plus one Jane Austen sequel) edition of my review-catch-up-pile. :) And now, on with the reviews!
Greetings From the Flipside
by Rene Gutteridge and Cheryl McKay
So I admit that I was a bit confused about what was going on in the first couple chapters, but once I settled into the flow it didn't take long to get swept up into the story. I really liked Hope! Watching as she stumbled her way into figuring out where she wanted her future to go was at times cringe-worthy, but always cheer-worthy. I wanted the best for her and really enjoyed getting to travel her journey with her. So glad this book is on my shelf so I can reread at my leisure. :)
A Bouquet of Love
by Janice Thompson
As always, I love getting more peeks into Bella Neeley's awesome family! And adding in a neighboring Greek family whose pride is just as big (and formidable) as the Rossi's made for loads of fun. Can I just say that Ms. Thompson writes great characters? I can always feel the chemistry crackle between her main couple, and Cassia and Alex are no exception. I laughed and swooned my way through this story and closed the final chapter with a happy sigh. SO much fun! :)
A Noble Masquerade
by Kristi Ann Hunter
I stood in the store unable to put this book down, that's when I knew it had to come home with me. Miranda and Marcus' chemistry and banter are delightful! I laughed the whole way through this story, but that's not to say there isn't an intriguing mystery to add some depth and tension to it. The characters are where Ms. Hunter excels though. I think I'd like to meet the Hawthorne's if they truly existed. They are a wonderful family!
A Lady of Esteem
by Kristi Ann Hunter
Technically this novella comes before
A Noble Masquerade
, but it doesn't really have to be read in that order (I read it second). Either way you read it, I'm sure you'll enjoy the fun of watching a man determined not to be swayed by love only to fall for someone unexpected. Amelia and Anthony are too adorable for words. Now I'm looking forward to what Ms. Hunter has in store for her readers next!
Falling Like Snowflakes
by Denise Hunter
Ms. Hunter has been on my list of favorite authors for several years and this story just helps cement her there. I absolutely loved the gentle way Beau took care of Eden, even when not certain what her motives were for arriving as she did. Ms. Hunter is so good at writing a swoony hero! Seeing both of them fall in love, almost against their will, is so very sweetly done. And some of the obstacles in their way are handled maturely and nicely, which I appreciated. A perfect story for a cozy evening in front of the fire! :)
Tiffany Girl
by Deeanne Gist
While I wasn't a fan of Ms. Gist's earlier work, her stories that take place around the Chicago World's Fair have very quickly risen to the top of my favorites list! Her thoroughly researched history is fascinating and her characters are amazing. Flossie, for all her faults, quickly made me love her and her interactions with Reeve never failed to make me smile. I skimmed it at the store, brought it home, and proceeded to devour it all in one sitting. It was just that good!! If you enjoy historical novels, I urge you to read this one. It is very evident that Ms. Gist put a great deal of time into making sure her history would be as correct as possible. Excellent read!!!
The Gifting
by K.E. Ganshert
A fabulous beginning to this amazing series. Ms. Ganshert kept me on the edge of my seat the entire way through and I loved it. :D But I was definitely glad I waited to read this until all three books were out because HELLO cliffhanger!
The Awakening
by K.E. Ganshert
The tension only rises here in book two. I continued to be impressed with this world that Tess lives in. For the record, I loved Tess, even if she tends to be quite frustrating at times. But Luka? *swoon* And that ending?! Not nice, Ms. Ganshert. Not nice at all.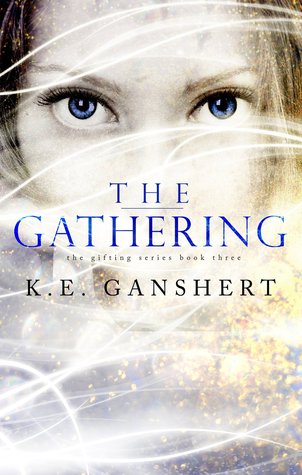 The Gathering
by K.E. Ganshert
An epic conclusion! Tess begins this book in a pretty bad place, so I could forgive her for making some hard choices. But there were definite moments, as the story went on, where I just wanted to shake her. Yet she's had to grow up quickly and has this huge responsibility lying on her shoulders. Which I felt like the adults in her life could have helped her handle better, quite frankly! But frustrations aside, I loved every minute of this story. SO glad I was able to read all three books one after another, as each kept me hooked in until the final page. This series truly is fantastic!
Henry and Fanny: an Alternate Ending to Mansfield Park
by Sherwood Smith
This is precisely what the title says. If you've ever wondered "what if Fanny ended up with Henry instead of Edmund", then you just might enjoy this. I did! Ms. Smith strove to make it feel very much like Austen's writing and did a fair job of it in my opinion. And whether you agree with this new ending or no, it is an enjoyable read and a nice addition to Ms. Austen's famous work. :)