I saw this question over at
The Broke and the Bookish
and immediately two series came to mind. (Well. Actually that's not true. I had to go to Goodreads and research what I've read and then I picked two. If I have to get technical about it. So there you go.) But isn't that an intriguing question, first of all? To imagine picking up the first book and diving into this amazing story without
any
idea of what was going to happen? And then to get swallowed inside it and dive into the next books without hesitation? Without having to wait
years
before reading the next book?! (Yes, I'm looking at you,
The Lunar Chronicles
!)
So! The two series that I'd love to read for the first time (again) are: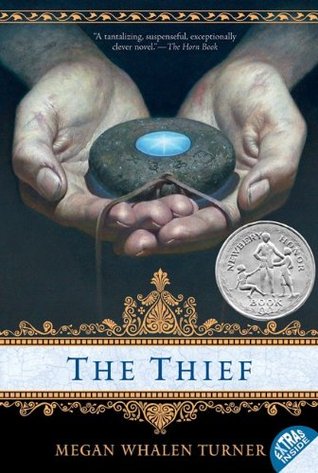 I linked you back to an old post of mine where I gush about how much I love these books and how I got convinced to read them. You should go read that if you need some encouragement to start the series. Because it is EXCELLENTLY written! (The books,
not
my post, fyi.) Ms. Turner's skill never ceases to amaze me. Trust me, this series is Just. That. Good.
I remember when I first started seeing this series around the blogosphere and I read rave review after rave review. It got me intrigued to be sure! And quite happily, the books hold up to every awesome thing said about them. They're fabulous! Who would have guessed that I'd swoon over a couple of knights from the fourteenth century?! Not me, but oh my. You have
got
to meet Marcelo and Luca! But don't worry, Gabi and Lia hold their own against these handsome lads. Time travel never looked so awesome! (But I do admit that I'm not so sure I could withstand all the medieval living. I mean, no running water? No modern medicine? Although I
do
love how Ms. Bergren handles a certain mortal wound. :)
The feelings of delight and all the wow-factors that kept me reading these books would be so fun to experience all over again! I mean, I know I can reread them, but those first feelings of awe can never be felt again. Unless it's vicariously through a friend who hasn't read them yet and decides to try one or both series...hint hint. ;) Have you read them? What are some books/series that you'd love to read for the first time again?