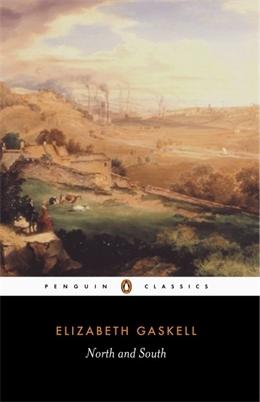 As I've been bombarding all of you with my
North and South
posts for the last month, I figured I really ought to actually review the book. But where do I begin?! (Beware, because here there be spoilers.) First of all, I should say that by watching the miniseries first (a few hundred times or so ;), it really colored my opinion of the story. I doubt that I would ever have been tempted to pick the book up otherwise. I
am
glad I did, however! Although I should also note that as much as I enjoyed the book, the miniseries still has first place in my heart.
That being said, this story is so full of....stuff! From the tensions between the masters and the millworkers, to Margaret, who's southern England upbringing did not prepare her AT ALL for life in a northern industrial town, to the tensions in the Hale family because of so many secrets they all carry, as well as tension in Mr. Thornton's life as a master and as a son to a formidable but loving mother, and of course the swoonworthy romance. Ms. Gaskell certainly knows how to write compelling characters! Because it's the characters that we fall in love with and who cause us to care about what happens to them. Although there were a few that I liked less than others.
My favorites are Margaret Hale, John Thornton, and Nicholas Higgins. They all start off rather off-putting, but through time and experience, slowly their individual struggles cause them to change into more understanding and caring people by the end. Oh, they never truly lose their innate personalities though. Margaret will always be forthright and outspoken in her ideas, Mr. Thornton will always be impulsive and emotionally driven, and Higgins will always be a little rough around the edges. But they learn to respect one another for their opinions and understand that there is much to be gained from each other, even when they disagree. If the three of them ever got together to discuss some subject or other, I can only imagine the debates that would happen! ;)
My least favorites were Mr. and Mrs. Hale, Mrs. Thornton, and Frederick Hale. I never could warm up to Mrs. Hale and how she woefully neglected her daughter
and
her marriage. And Mr. Hale wasn't much better at the beginning, but he does open up to Margaret a little more later on, which helped how I felt about him. As for Frederick, he just seemed underdeveloped and I never really liked or disliked him. He felt more like a plot device that was there to move things in certain directions and once his use was over, he went back to Spain and I didn't mind at all. Mrs. Thornton lives up to the nickname of "battle-ax Thornton" indeed! She could be very insulting, but her one redeeming quality for me was the love she had for her son. She and John had a great relationship and I was glad for Mr. Thornton's sake.
I would say my absolute favorite part of the story was how much time we spend in Mr. Thornton's head! I
loved
reading all his emotional turmoil. Watching him love Margaret regardless of any
thing
or any
one
was lovely. Then to see he and Higgins begin to respect one another and learn from each other was delightful. I'd like to think that they became good friends by the end of the story. And of course, the romance is enchanting! Quiet and subtle, as befitting the time period this was written in, nonetheless it's full of tension and chemistry. Mr. Thornton certainly knows how to make a girl swoon! ;)
There
were
bits that felt a bit slow or draggy to me, I confess to skimming quickly through some of the union stuff. My interest was much more the characters and their developing relationships with each other. But mostly, I just really enjoyed all the extra detail that the miniseries can't give us. Definitely a keeper! :)
It seemed as though he gave way all at once; he was so languid that he could not control his thoughts; they would wander to her; they would bring back the scene,- not of his repulse and rejection the day before but the looks, the actions of the day before that. He went along the crowded streets mechanically, winding in and out among the people, but never seeing them, -almost sick with longing for that one half-hour-that one brief space of time when she clung to him, and her heart beat against his-to come once again.