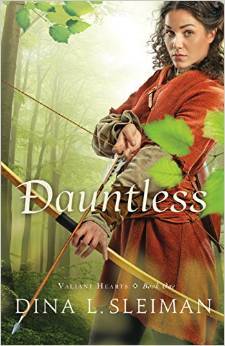 What a fabulous take on Robin Hood! I confess that I haven't read many Robin Hood stories, but I do know the general plotline well enough. And I can say that Ms. Sleiman has written a wonderful addition to the list. Action, adventure, romance, and a swashbuckling good time! What's not to like?
Merry is such an intriguing young woman. Circumstances have led her to this place and these people where she has formed a new family for herself. From her men who "thieve" alongside her to the young orphans in their care, this ragtag group loves each other fiercely. And Merry, as their leader, understands all too well the way life throws some really hard knocks at you sometimes. But she determines that their present situation won't be forever. I do love how she teaches them and cares for them. She refuses to accept defeat! Her care and concern, yet utter confidence in their abilities to save one another when needed or do their part in the care of the group is lovely to witness. Yet that courage (and fiery temper!) also cause her to be unable to accept help when it comes in ways that she hasn't figured into her plan. So she has some learning to do herself.
I confess to not really being a fan of love triangles, so that part of the story disappointed me a bit. Even though there really is never any doubt which guy Merry is going to choose, the rejected one is such a good guy that I just wished he had more of a plotline than simply trying to convince Merry to love him. Yet the romance
is
cute and sweet. Most of the buildup has happened in the past since they've known each other for years, so present day is more focused on accepting what their hearts are telling them.
I did love the introspective moments! There are several times where Merry has a lot of time for thinking and writing. I really enjoyed her poetry as well. Even Timothy and Allen has moments where they had to do some thinking and/or plotting their next plan. Somehow the mix of narrators worked for me. I was a bit afraid I wouldn't be able to keep track, but no worries there! And it helped keep the action going, which I appreciated. These are the times I like being the omniscient reader who knows what everyone is doing, while the characters themselves don't! :D
So overall, this is a very fun adventure. Ms. Sleiman impressed me with her skill at writing a great story and now I'm anxious to read more of her writing. As well as go back and reread a few favorite scenes. Which is the nicest compliment I can give a book! Plus that cover is simply beautiful. The colors are perfect and that's just how I could picture Merry. Yay for great cover designers! :)
** I received a complimentary copy from
Bethany House
in exchange for my honest review.
Death always spiraled about them in this realm, brushing against their shoulders, reminding them they might be next…




An odd sound met her ears from just outside the door. The call of a wood warbler…or rather a childish imitation of one.




Thanks be to God," Allen said. "Our prayers have been answered." Robert rushed to the door and opened it.




In tumbled Gilbert, red cheeked and panting for breath. "All…is clear." He collapsed against the wall. "But I lost….the berries."