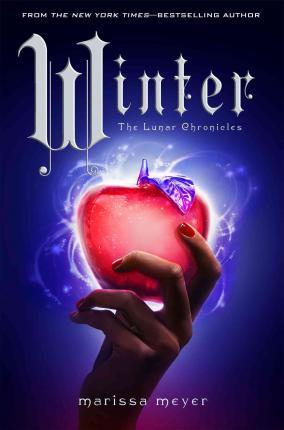 Does this series
have
to be over?! I know I talked about how I hated waiting a year or more between books, but I'm still sad that this is the last one. (Yes, I'm contrary like that.) At least I can go back and reread them all! You can bet that I will, too, because this series is awesome. And this book in particular is EPIC.
With all the multiple narrators and storylines it would be entirely understandable if things got slightly confusing, but I'm happy to say that Ms. Meyer so skillfully changes between scenes (and almost
always
at a cliffhanger moment!) that I had no trouble keeping track of who was where doing what. Cinder gets the chance for things to start going her way and is able to show the universe exactly what she's made of (
finally
), and Kai's role in the revolution allows for him to do his part and prove that he's more than just a pretty face. Scarlet has one of the most awesome moments of the whole book when she shows how fierce she actually is, while Wolf has some oh-so-heartbreaking moments. Cress is able to use her hacking ability in all the best ways and Thorne? He finally allowed me to see into his heart. In
Cress
, I had trouble figuring him out, so I was pleased he opened up a little more this go round.
As for Winter herself, after the small glimpses we had in previous stories I was intrigued to have the chance to know her better. She didn't disappoint me in the least! For as crazy as she seems (poor girl has some terrible hallucinations *sadface*), she's much more smart and sneaky than most give her credit for. I loved how she figured out ways to survive her life with Levana and still help the revolution! She and Jacin were so perfectly suited. Speaking of, I was also happy that I liked him. He's been so very stoic in the past that it was a delight to realize how Winter undoes him. Their relationship isn't easy, but it certainly had its swoony moments! And I loved all the callbacks to Snow White.
There's a whole lot going on, which means I was turning pages as quickly as I could to find out how things were going to turn out. As these stories are based on fairytales, of course you can imagine that the happy endings were going to come! But they didn't come without some heartache and pain, let me tell you. Certain characters I wanted so badly to reach into the pages and hug them tight! (Poor, poor Wolf. *whimpers*)
Kudos to Ms. Meyer for creating an amazing world filled with characters who draw you in! Seriously, this series is fantastic and if you haven't read them, make haste and do so now! You won't be disappointed! :)
Winter stroke beside him, her fingers clenched around the basket handle. At least she wasn't trying to catch his eye anymore, which was a small mercy.


"I do know how you feel about me," she finally said, and it sounded like a confession. "I know that you are my guard, and you are my best friend. I know you would die for me. And I know that should that ever happen, I would die immediately after."


"Yeah," he said. "That's pretty much it." The sound of a nearby coffee grinder rumbled through the stone walkway, and the smell of baking bread assaulted his senses. He braced himself. "Also, I think you're sort of pretty. You know. On a good day."