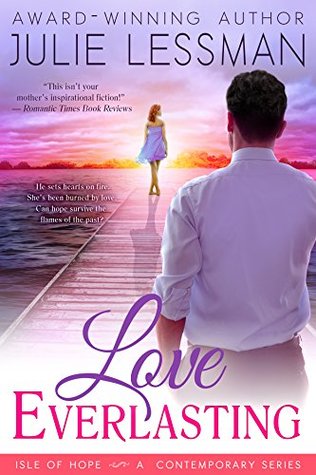 I had been eagerly anticipating this book ever since I first read the synopsis for it. Not to mention everyone and their sister has been gushing over book one of the series,
Isle of Hope
. But it wasn't until I had the pleasure of meeting Ms. Lessman in person a couple months ago that my impatient nature began showing itself. After hearing her speak on the personal reasons that inspired her to write this series (I love knowing the background stories which galvanize an author to begin writing), I knew that October couldn't get here fast enough. Now it's here, I finally got the book in my hands, and I loved it! I think you will too. :)
Firstly, it's those characters who pull me in (as usual). I loved Shannon and her sweet and caring nature, who can also be bold enough to stand her ground when the occasion calls for it. (Although I will admit that I wasn't as big a fan of her nickname. It's used constantly and kind of bugs me, but that's just a personal quibble.) The close relationship she has with her family is wonderful to watch play out. The O'Bryen's are awesome! They all clearly love one another dearly and even when one makes a mistake, they confront the issue with love and grace as needed and move on. When problems arise, they're all guaranteed to do whatever they can to make things better, they look after each other fiercely. They actually remind me a lot of the McKenna clan from Dani Pettrey's Alaskan Courage series, who just happen to be one of my very favorite fictional families!
Then there's Sam, aka Dr. Love. He's got the biggest amount of growing to do because he starts out with layers that are in desperate need of peeling back. As we're reminded (a little too) frequently, he's a player and perfectly happy to be one! I don't think we have enough nice guys in fiction, but I do have to admit that there is just something about a bad boy who gets redeemed, isn't there? That's precisely who Sam is at the beginning, a bad boy with a tender heart that he keeps hidden. Watching as Shannon slowly batters down his walls, almost unbeknownst to him (or her either), is hilarious at times and awfully swoony at others! Because can I just say that the chemistry between those two is off the charts! Yet the very best part is how they inspire each other to change and become better versions of themselves. Neither are without fault though, so their relationship requires a lot of patience and grace from each other.
I can't forget to mention Tess and Ben's relationship because we spend a good deal of time with them as well. I gathered that there is some backstory from book one which I haven't read, but Ms. Lessman provides just the right amount of indication of what happened to keep me from being confused. I had no trouble jumping right into their part of the story, which is full of enough angst and swoons and amusement to make any reader happy. I do have to confess that their storyline didn't hold my attention quite so fully as Sam and Shannon's though, and I would often skim through some of their chapters. I still enjoyed getting their perspectives though! Especially when the O'Bryen's were all together.
Chemistry-laden swooniness plus character growth plus really wonderful writing equals a delightful story so worth your time! I highly recommend this one, friends. SO good! :)
**I received a complimentary copy via
Singing Librarian Books
in exchange for my honest review.
About the Author
Julie Lessman is an award-winning author whose tagline of "Passion With a Purpose" underscores her intense passion for both God and romance. A lover of all things Irish, she enjoys writing close-knit Irish family sagas that evolve into 3-D love stories: the hero, the heroine, and the God that brings them together.
Author of The Daughters of Boston, Winds of Change, and Heart of San Francisco series, Julie Lessman was named American Christian Fiction Writers 2009 Debut Author of the Year and has garnered 17 Romance Writers of America and other awards. Voted #1 Romance Author of the year in
Family Fiction
magazine's 2012 and 2011 Readers Choice Awards, Julie was also named on
Booklist
's 2010 Top 10 Inspirational Fiction and Borders Best Fiction list.
​
Julie's most recent novel,
Isle of Hope
was voted on
Family Fiction
magazine's Best of 2015, and
Surprised by Love
appeared on
Family Fiction
magazine's list of Top Ten Novels of 2014. Her independent novel
A Light in the Window
is an International Digital Awards winner, a 2013 Readers' Crown Award winner, and a 2013 Book Buyers Best Award winner. Julie has also written a self-help workbook for writers entitled
Romance-ology 101: Writing Romantic Tension for the Sweet and Inspirational Markets
. You can contact Julie through her website and read excerpts from each of her books at
www.julielessman.com
.
Giveaway
a Rafflecopter giveaway
Tour Schedule
October 1--
October 2--
Bibliophile Reviews
|
Wishful Endings
October 3--
Book by Book
|
Singing Librarian Books
​
October 4--
Flowers of Quiet Happiness
October 5--
Getting Your Read On
|
The Green Mockingbird
October 6--
Faithfully Bookish
|
Just Commonly
October 7--
Daysong Reflections
|
Bookworm Mama
​October 8--
Smiling Book Reviews
|
Zerina Blossom's Books