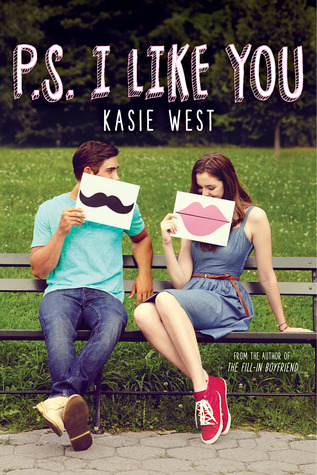 Kasie West has been slowly creeping up my list of favorite authors and this book cements her place there! Because I LOVED it. I am such a huge fan of stories where one or both parties fall in love with the other's words! Maybe it's because I'm so much better at writing my own thoughts than actually saying them out loud, but whatever the reason that aspect of this novel was pretty much the deciding factor as for whether I'd try it or no. Then I read a review somewhere that stated how this had similarities to
You've Got Mail
, which just happens to be one of my most favorite movies EVER! So that was that, I was going to read it and love it. Sure enough, I did! And friends, let me tell you, it is simply delightful.
The biggest reason I loved it is because of how these two people fall for each other! Writing anonymous letters to someone they don't know (at first) allows for heart truths to come out. They write things they wouldn't normally admit to. Especially to each other! But their written words open their hearts and before they know it, they matter. A lot. Which then brings complications, naturally. (Where would we be without the requisite complications? :) Things happen, Lily finds out just who she's been writing to, and cue the angst! I had a pretty good idea who her mystery guy was, but that didn't lessen my happiness once she found out (which happens about half way through). On the contrary, the fun really began! Because these two definitely had similar vibes to Joe and Kathleen (from
You've Got Mail
). And watching them banter and stumble their way through figuring out how to handle their feelings is the best!
I also love Lily herself. She is a wonderfully awkward teenager, who doesn't always react in the best ways. She makes mistakes and is still in the process of learning who she is and whether she's brave enough to show her true self to the world. Yet she's so confident in owning her quirky style and how she doesn't fit in with her peers at the same time! So, she's a mix of insecurity and determination, with a fabulous best friend, and this guy who discombobulates everything. He causes our girl much angst and frustration, yet the slow build of how perfectly they fit together made me swoon all the harder once we got to the happy parts! :D
This book is light and frothy and absolutely adorable. I can't stop grinning even now, just thinking about it! If you enjoy likable leads paired with fun bickering and cuteness galore, not to mention letter-writing!, then this one
must
be added to your TBR pile, friends! Trust me.
"Isabel, help me in the kitchen."
She followed me in and when I was sure the guys couldn't hear, I whispered, "Why would you do this to me?"
Isabel sighed. "I thought that if you didn't know you were going on a date tonight, you wouldn't have time to stress. That you wouldn't practice lines in your mind and imagine outcomes."
"You thought my awkwardness was from preconceived plans to be awkward?"
"Yes, actually."
I laughed. "Well, now you know the truth."

"I called your name outside but you were running like someone was chasing you."
"I'm practicing for cross-country."
"You are?"
"No, I'm not. Running is the worst. Why do people do that on purpose?"