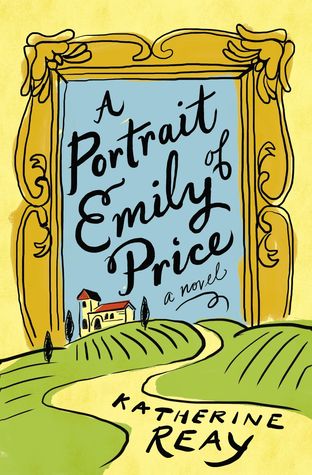 When Katherine Reay has a new book coming out, you can bet that I will read it! This being only her fourth in the history of ever, it's not too many authors who become that dear to me this quickly. But Ms. Reay made me an instant fan with her debut,
Dear Mr. Knightley
, and every book since has only sweetened my adoration of her writing! There is simply something incredible about her ability to write characters that I love, along with world-building that sweeps me away (into Italy this time around!), and she tops it all off with a charming romance that adds just the right amount of tension and page-turning for more cuteness. How does she do it? I have absolutely no idea. But I love it! :D
I loved all the characters, but especially Emily herself. She is a mix of emotions and quirks. I felt a connection pretty quickly and appreciated how she dealt with all this sudden change in her life. She got overwhelmed and frustrated, yet still worked to fit in with Ben's family and tried to wind her way through the maze of a new culture, new language, new people (which isn't easy for anyone). In short, she felt like a real person. Not perfect, she certainly made a few mistakes (boy does she ever, poor girl!), but real and genuine. And Ben? Oh my goodness, I think I want a Ben of my own! Talk about making a girl weak at the knees. It's no wonder he swept Emily off her feet so easily! How on earth would you ever turn a man like that down? ;) Their relationship is definitely an appealing part of the story! But he's not perfect either. For all his love for Emily, bringing her to Italy has consequences that causes changes he was not expecting. No one ever really adjusts smoothly to big changes in their lives and Ben, Emily, and their family are no different than we.
Then there's Francesca and Lucio, my two favorite side characters. I delighted in how Lucio used stories to convey his lessons. He sees so very much more than one realizes at first and his usage of stories, whether verbal or written, just spoke to my readers heart. I wish he were real! I also loved how I could feel the lilting accents of each person. Not hear them, because I don't know what they all sound like personally, but I could definitely feel them. The layers of words and how they flowed, each character had a distinct way of speaking by the time I was in the middle of the story. It felt very much like I was in Italy myself, listening to all these conversations! Ms. Reay just has a way of drawing me into the story and making me comfortable. I think that's what it is precisely, her stories fill me with comfort. All the literary references, the food described in glorious detail (so much so that I was constantly hungry while reading! :), and simply the story itself. She wraps me up in her words and I settle there happily until the final page.
But it's the gentle weaving of relationships in amongst the lovely conversations and delicious sounding food that really struck me. That's truly where Ms. Reay excels in her writing. Relationships are never easy, they take lots of work, and she gets that. It's on every page of this story, how the love between people makes them vulnerable to hurt, how they do actively hurt each other, and how they seek and find forgiveness and come back together again. Whether friendships or romance, it's the people who matter. All the extra stuff, the restaurants, the paintings, the cooking, they all become metaphors for what these characters are going through inside. I absolutely love that! She knows the power of family, whether blood related or no.
What Ms. Reay has done with this story amazes me. I've loved her other books, but it truly feels like
Lizzy & Jane
and
The Bronte Plot
were but precursors for this one. Like she dug deep into the emotions of the characters and displays them so intricately that one cannot help but feel each one of them right along with that particular character. I am sitting here, having just finished reading this loveliness, and for all the words I just garbled out, please simply know this. You
must
read this story. That's all.
**I received a complimentary copy from Thomas Nelson and Netgalley. All opinions expressed are my own.
I could only nod. Yes, I understood. I got it-not all he'd said, but what he was trying to do. He wanted to give his aunt and uncle something more. A chance. A better life. Joy. I wasn't sure any of it was possible, but I appreciated that he believed it. It was so clear, so beautifully clear, that he believed it.





He scrubbed at his chin, then nodded. "Stick to portaiture."




I snickered. It was meant to sound light and lively, but disappointment and self-derision twisted it.


Joseph's eyes softened. "Your people are alive, pina di vita, and powerful. I can see that your heart is in them, not in the flowers. That's why I say portraiture. Chase life.



During dinner that first night he was fire and action, squeezing himself into our small table and quarreling with Joseph. But yesterday he'd been slow and thoughtful, his wrist, stirring the sauce, providing the only movement. Then he turned and looked at me and not a muscle moved. I liked that. It felt as if he understood the proper speed of things, the proper weight of life, and it didn't intimidate him. He didn't need to fill it up with clutter.



I laid down the picture. Joseph never talked of family or home. Anything I'd learned came from Ben. He talked of family all the time, and they sounded pretty ideal-boisterous, but ideal. Ben used warm words like laughter, love, teasing, and hugs. Words that tasted sweet and coated you. Joseph, if he did have anything to say, used words from my lexicon: obligation, work, duty, challenge. Hard words I could tap with my small finishing hammer. I suspected Joseph and I had both spent years tapping at those words.



"Good writers do that. They show us ourselves, but in a new light..."





"It's fun. Shakespeare wrote bawdy comedy, and while the play has its problems in a modern context, it is still fun. I doubt he expected to be read four hundred years later, but I suspect he is because he speaks truth. We do push and pull against people. And however it comes about, we recognize when someone takes us to heart and strives to understand us, in here." He pointed to his own heart.