And we're back for more mini reviews! I've been so happy to enjoy reading again and there's been several wonderful stories I've moved from my TBR to my finished pile. That's always a happy thing! :) Also, who can believe that Feb is already half over? Where on earth does time go anyway?! I could use another hour or two added to my days that's for sure. At least one for reading only? Don't you think that'd be perfect??
By Your Side by Kasie West
Kasie West has quickly become one of my go-to authors for easy, entertaining, and swoony stories. I loved the idea of characters being locked inside a library for an entire weekend, although I did wonder how she would make it happen in this age of smart phones and whatnot. It worked! Autumn and Dax have a pretty slow burn type of romance, but their friendship was so fun to watch grow. I loved how Autumn basically refused to let Dax's attitude (especially in the beginning) get her down! They actually force each other out of the boxes they were keeping themselves in and see things from a new perspective. They truly do make each other better people. Plus they were simply adorable together! All the moments they spend together just made me love them more and more. I will say that the sort-of-not-really love triangle that happens could've been dialed down a little, but as there really was never any question which guy had her heart, I could overlook it and/or skim over those parts that made me roll my eyes. So yes! This one is all kinds of adorable and fun! :)
Valentine's Day Collection by Janette Rallison, Heather B. Moore, Jenny Proctor, Annette Lyon, Heather Tullis, & Sarah M. Eden
When I saw that Janette Rallison had a story in this collection, I knew I was going to read it. And hers was by far my favorite of the bunch! But I thoroughly enjoyed all six stories, which were full of fun and laughter. The mix of heroines go through a variety of set ups on their way to falling in love. From getting hauled to jail, getting snowed in at the airport, and practicing for Olympic swimming, to writing advice columns, reigniting old crushes, and even doing the laundry, I giggled and swooned my way through. These stories are very short actually, but sometimes all you want is a quick, easy read guaranteed to make you smile, you know? These were perfect for that! :)
Rescue Me by Susan May Warren
Those blue eyes! They sucked me in and convinced me to read this story. I'm so glad they didn't steer me wrong! ;) I loved Willow from the start, and wanted to hug her so many times over the course of the book. Sam definitely gives her some mixed signals in the beginning and I wanted to shake him a few times, but as he begins to realize how wonderful Willow is, I forgave him. These two have amazing chemistry together and as they both need a bit of rescuing from themselves, watching them learn to truly trust each other with their most vulnerable sides...ah my heart! It melted again and again. Of course, we get to the action of the story fairly quick and that kept me on my toes as well, wondering when they would be rescued and how it would happen. Ms. Warren has long been on my
long
list of favorite authors and this story absolutely solidifies her spot there!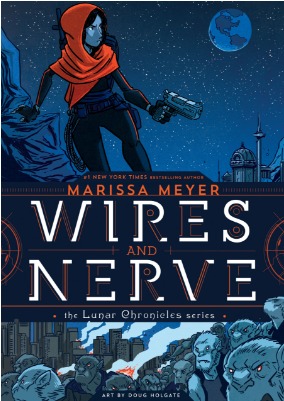 Wires and Nerve by Marissa Meyer
I love Iko! I had been eagerly anticipating this book for months and ended up anything but disappointed. Iko certainly knows how to hold her own in a fight! I was not expecting her to be quite that great of a fighter, but clearly she's had a lot of practice. And of course I loved catching up with all my other beloved characters as well! Especially Cress and Thorne. It took me a while to warm to them as a couple during the original series, but as I'm fully behind them now, I loved seeing them so adorable together. There are a couple new characters, who I liked, one of whom is a sister to Kinney. I admit it, Kinney and Iko are awfully fun to watch. I remember noticing their chemistry a little bit during
Winter
, but there's no doubt it exists here! I have to also admit that, while the artwork is excellently drawn with lots of interesting details, it wasn't my favorite. I think my main problem is simply that I had images of my precious characters in my head and they looked nothing like this. Which I figured might happen, being as this is a graphic novel, but it still disappointed me a little bit. But! I loved every minute of getting to spend time with these characters again! And the only thing I didn't like was the fact that my read-through went far to quickly. And now I have to wait another
year
for the continuation! *cries*