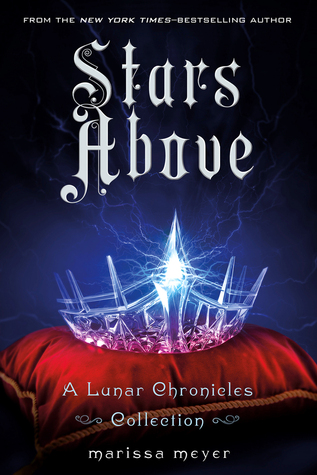 After finishing
Winter
, I Could Not Wait until this book of short stories came out! The reason? Because of the final story,
Something Old, Something New
, which is an epilogue for the series. Naturally I read it first when I finally got my hands on the book! :D And I was far, far away from being disappointed. I was perfectly happy with the ending of
Winter
, mind you! But I LOVED getting a future glimpse of our characters. Ms. Meyer created a truly epic world of characters and stories, and I am so, so glad she finished the whole series with happiness and rainbows. Of sorts. :)
For all my gushing over the last story in the book, that doesn't mean the others weren't still a lot of fun. Because they were! Some of them were bittersweet, some were just a lot of fun, and they all were wonderful insight into some of the questions we had from the series. I am amazed once again at Ms. Meyers skill. These little short stories only emphasize how much of this world she's created is so fully fleshed out in her head.
The Lunar Chronicles is a series that is wonderful and awesome and absolutely worth reading! Add this one to your TBR if you haven't yet. I'm positive you won't be disappointed! :)
His smile was instinctive. A little bit apology, a little bit politeness. And a little bit of charm because, of all the things he'd expected to come from his trip to the market, meeting a cute girl with messy hair and dirty work gloves had definitely not been one of them.

With pleasure," Kinney deadpanned. "In fact, I was hoping that if I came to see you off, I would be asked to do manual labor."
Iko shrugged. "If you don't want to do any heavy lifting, then stop having such impressive muscles."