Oh look, guys! I'm doing some catch up reviews! It's about time, right?
I know. You had no idea I had any reviews to catch up on, but guess what? I do! So here we are.
While I was in Thailand for 8 months, I was taking classes and these books were on our textbook list. So! I wanted to review these particular ones because they stood out to me significantly and also because I wouldn't mind reading them again. Oh! And they also caused me to decide to add a bit more non-fiction to my daily reading life from now on. In other words, you might see a few more of these sorts of reviews pop up now and again...
On to the good stuff... :)
The Knowledge of the Holy by A.W. Tozer
Just wow! Diving in to the many attributes of God is fascinating, humbling, thought-provoking and so many other words. I finished this deep and rich little book and immediately wanted to turn around and dive back in again. It is full to the brim with
life
.
Jesus Among Other Gods by Ravi Zacharias
I had heard of Mr. Zacharias before reading his book, but this was my first foray into his writing. I have now added his others works to my TBR! This man is clearly quite intelligent, but his writing style is such that had me quickly immersed. And this particular book made me stop and think every few paragraphs or so. I love the way he writes about deep things in a way that I completely understand.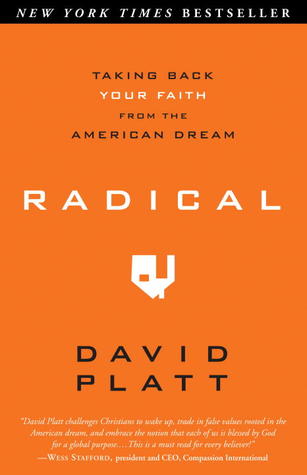 Radical by David Platt
I was SO not expecting what this book turned out to be! Most certainly well named because it has a way of turning your "normal" ways of thinking on their heads. The ideas and thoughts that Mr. Platt shares are incredibly compelling. I absolutely want to reread this again very soon, just to solidify every bit into my heart and mind. I closed the final chapter with a heart humbled and challenged in all the best ways. I highly recommend you read it yourself and then tell me so we can chat about it. These are ideas worth chatting about! :)
When God Weeps by Joni Eareckson Tada
Definitely an intriguing book! New ideas and thoughts on suffering that I had never truly considered before. And when they come from someone who has suffered tremendous physical pain in her life? Well. They hit just a little bit harder home then, don't they? An excellent book well worth your time, friends. It's sobering and challenging, yet uplifting all at the same time. I really like Ms. Tada's writing style, but I knew that already. This only solidified it!